Crashed Maintenance Ship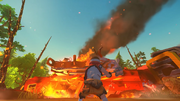 Crashed Maintenance Ship is a structure in Scrap Mechanic.
The Crashed Maintenance Ship is a spacecraft owned by the Mechanic, which lost control shortly before touchdown. As a result it crashed on the planet's surface leaving the Mechanic as a survivor.
A Master Battery is required to power the ship. This turns on the interior lights, allows Basic Craftbot to be used, and opens the yellow panel in the cockpit area containing the Logbook.
The Crashed Maintenance Ship contains the following items:
The area around the crash site has several Burned Trees, making it an important early-game source of Embers, which are required to craft Metal Block 2 and other blocks.
Before the Logbook was added, its terminal stayed closed when the ship was powered, though it still had a Use prompt when looking at it.
It is possible to find a second Crashed Maintenance Ship. This ship lacks a Basic Craftbot, Logbook terminal, and Master Battery slot, and has fewer items inside. Only one instance of this second ship is generated per world, always on an island in the northwest corner of the map. This ship has a 3 on its exterior roof, while the starting area ship has a 7.